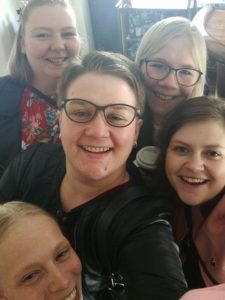 D. 20.-22. april holdt GUCH Ungeweekend for ni unge mennesker med hjertefejl. Det foregik i Odense og teamet var "Livet, som ung kroniker". Her kom den tidligere blogger Anna Warrington og fortalte om hendes liv med dårlige hofter (en produktionsfejl, som hun selv kalder det). Hun oplever præcis de samme udfordringer, som vi hjertepatienter gør det: Vi bliver hurtigere trætte og vi skal planlægge vores dag med udgangspunkt i vores vilkår. Men vores fællesskab gør, at det hele bliver lidt nemmere.
Sammen kan vi nemlig udvise forståelse for hinanden og give hinanden ret i, at vi er fantastiske. Og netop dét er grunden til, at GUCH er fantastisk! Der er et stærkt fællesskab og alle er hjertens velkomne.
Annas fortælling bekræftede os også i, at rigtig mange sygdomme er ens. Ligesom os, bliver hun hurtigere træt og hun skal rationere sin energi på en smart måde, så hun kan lave alle de ting hun gerne vil. Det var virkelig inspirerende og meget rammende for alle os, som sad samlet.
---
In English
The 20th-22nd of April GUCH held the annual Ungeweekend, where youngsters and adults with a heartcondition can meet eachother and exchange experiences. It was held in Odense and the theme was "The life as and ung adult with a chronic disease".
The former blogger Anna Warrington came and told us about her life with bad hips. She has excatly the same experiences as we do: Our energy level is lower than the average and we need to plan our day to get through it. But our community is something, that makes it a bit easier: We get the understanding we need og we can make eachother sure about our awesomeness. It is a strong community and everyoe who attends one os these weekends leaves with a strong feeling of 'togetherness'.
Anna and her story confirmed our thoughts: many illnesses are somehow the same: Just like the people with a heartcondition, we have to ration our energy to be able to do all the things we want to. But because we are a unity, everything gets a bit easier.